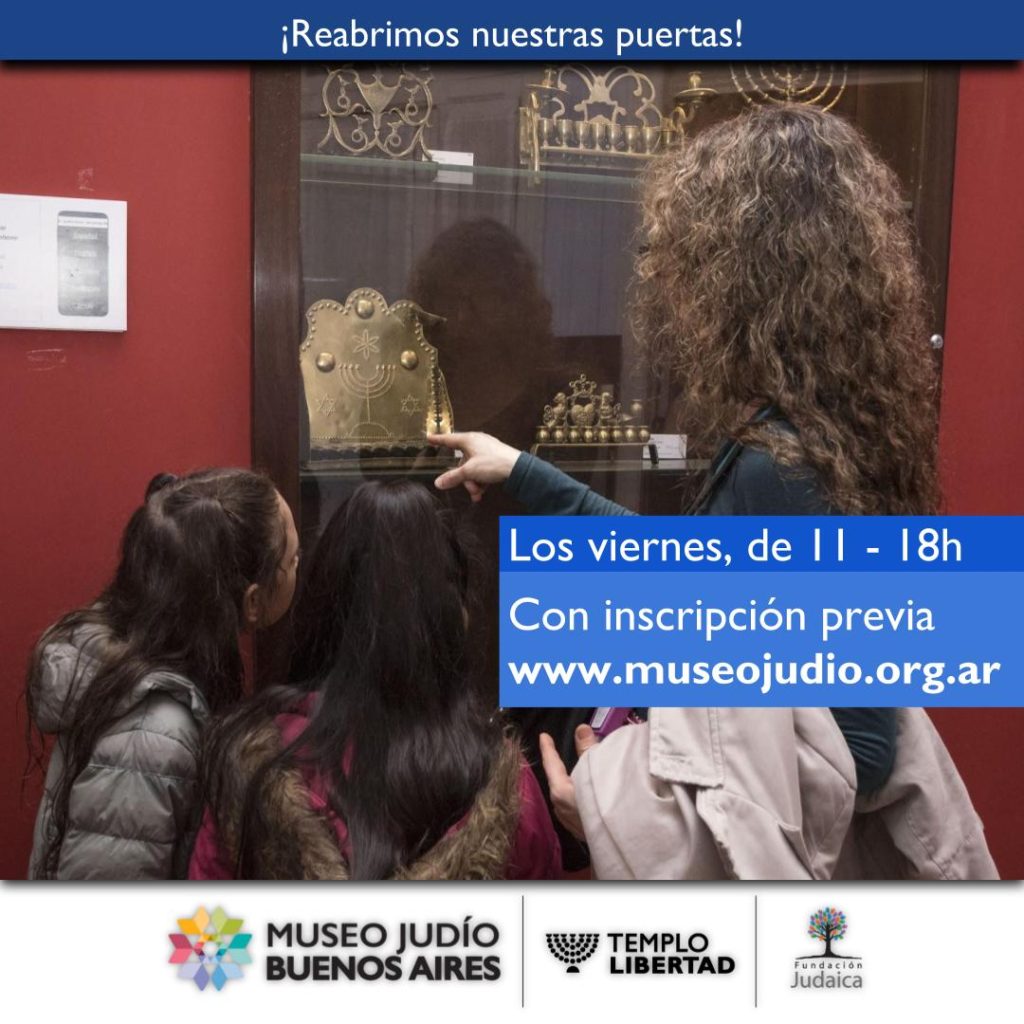 Viernes | Fridays
11:00 – 18:00h
Durante junio y julio, los viernes se cierra a las 17h
During june and july, on fridays closing time is at 17h
Contribución general | General Contribution
10 u$d
Argentinos: $300 – Estudiantes y jubilados: $150
Es condición necesaria el presentar -en su versión original- un documento de identidad argentino o pasaporte en el ingreso. It's a neccesary condition to present your original passport upon entry.
Audioguía en su celular disponible en español, inglés, portugués, francés y hebreo. Audioguide in your smartphone in spanish, english, portuguese, french and hebrew.
El Museo Judío de Buenos Aires fue inaugurado en 1967 por iniciativa del Dr. Salvador Kibrick, miembro de la Congregación Israelita de la República Argentina, la primer institución judía del país fundada en 1862. Esta situado al lado de la imponente Sinagoga del Templo Libertad, declarada Monumento Histórico Nacional en el año 2000.
La singularidad de este museo es relatar la historia de nuestro inmigrantes, de las colonias judías, de nuestra milenaria tradición. Comprometidos en transmitir lo propio de nuestro pueblo y lo particular de ser judío argentino, presentamos un recorrido interactivo a través de una colección permanente en diálogo con el presente, creando un enlace entre la obra y la intepretación.
The Jewish Museum of Buenos Aires was inaugurated in 1967 under the initiative of Dr. Salvador Kibrick, member of the Israeli Congregation of Argentine Republic, the first jewish institution in our country, established in 1862. It is located next to the impressive Templo Libertad Synagogue, declared National Historic Monument in 2000.
Uniquely, this museum narrates the stories of the immigrants, our traditions and the Jewish colonies. Commited to transmit what is characteristic of the Jewish people, we present an interactive tour through a permanent collection in constant dialogue with the present aiming to create a link between the exhibition and interpretation.